Etsy Has So Much to Offer and We Get to Support Small Businesses…Total Win!
I'm a huge supported of Etsy. I love supporting small businesses and I HAVE NEVER BEEN DISAPPOINTED!! I searched and found gifts I think would be sure to please all your loved ones.
How fun would it be to give a personalized Holiday Pillow Cover?!! Qualtry has some beautiful choices!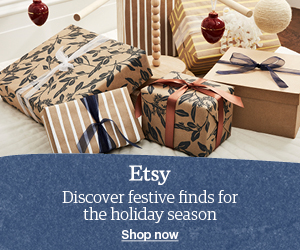 I love this delicate initial ring. It's just beautiful! Grace Personlized has some truly unique jewelry options.
A personalized cheese board would make any cheese lover happy! Sugar Tree Gallery provides tons of personalized gifts to really spoil someone!
A Personalized Wallet is a great gift for a man in your life. It is special just for them! Stay Fine Personalized has some truly unique items for your man or any man in your life.
I am obsessed with the look of a Wooden Watch! They are so beautiful! Stay Fine Official also has personalized engraving to make it extra special.
I don't know about you but my husband is a grilling and smoking meat man. What drives me nuts is that giant grilling utensils that don't have a good place to go. This awesome Personalized Grill Set has it own container. I'm in love! Two Jays Creative has tons of personalized gifts for the whole family!
For my husband's birthday I got him an replica of ,an antique map of Lake Minnetonka, where we boat. I framed it in a barn wood frame and he LOVED it. The Genealogical Surveyor has the coolest historical maps. I Highly recommend!!
A friend of mine lost her dad this year. When my dad died she gave me the most precious locket that had pictures of my dad and I in it. I needed to get her something special too. I found this dainty Forget Me Not bracelet that is just lovely. If you know someone who will be going in the holidays without someone special this could be the perfect gift. Petal Spell has done some incredible jewelry with flowers. Truly pretty!
Now if you want to get something fun for your friends and family my girl Marea at LunaSea Gifts. She has hilarious face masks but also shirts, ornaments, tumblers, mugs, and headbands!!! She also beautiful notecards that her late dad painted. Use code bbandbinks for free shipping!

Etsy Has Also Created Some Amazing Gift Guides! This is a READY TO SHIP GIFT GUIDE, go check it out and start shopping!
honorable mentions
Here are other things I've ordered from Etsy that I had to share!
Wall Decals-I love decorating the house and changing up my decor. When it comes to walls it's super easy to get wall decals to switch it up on a budget. I've ordered from a couple stores I figured I'd mention! * White Corner Designs-dinosaurs for Little Man's bedroom and Rainbows for Sissy's room. (Here is a blog post showing her room). *Stephan Edwards Graphics-for the flowers in my bedroom. I walk into my room and love them so so much!!! *Little Cooper Lane-for the polka dots in the playroom. *Enchanted Interior UK-for the adorable stars from Little Man Nursery.
Jewelry-I have purchased many unique gifts in the past for gifts! Here are a couple shops to check out! *SuchSplendidThings-beautiful antique and vintage jewelry! *KrisiaArt-Healing Gemstone Jewelry & Personalized Gifts. *Popsicle Drum Simple, beautiful jewelry. *Porteya-she made beautiful photo necklaces for my friend who lost both her parents in a short time. *DearestMine-I got this unique locket I could put a special note in, really cool!